GENERAL
Molasses is the thick dark brown syrupy liquid left after sucrose has been removed from the mother liquid in sugar manufacture. There is two type of molasses – cane molasses and beet molasses. Blackstrap molasses is the syrup from which no more sugar can be obtained economically.
Synonym of molasses  – Treacle.
Main composition of molasses at 75 % Dry Matter
| | | |
| --- | --- | --- |
| | Cane molasses | Beet molasses |
| Sucrose | 30 – 40 % | 48 – 52 % |
| Reducing sugars | 15 – 20 % | 0.2 – 1.2 % |
| Organic non-sugar matter | 9 – 12 % | 12 – 17 % |
| Sulphated ash | 3 – 11 % | 3 – 10 % |
The solubility of sucrose is affected by the presence of reducing sugars and inorganic ash. In general, reducing sugars decrease the solubility of sucrose and inorganic ash increases it.
The viscosity of both beet and cane molasses is influenced by constituents other than sugar. Beet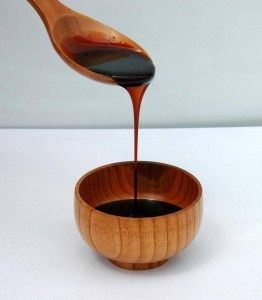 molasses is usually of lower viscosity, particularly at ambient temperatures than cane molasses, but in both cases, it is affected by the dry matter content. Molasses exhibits the phenomenon called critical viscosity which means that above a certain dry matter content the viscosity increases at a greater rate than might be expected from the increased dry matter content. The critical viscosity for cane molasses lies between 81 and 85º hydrometer brix. The viscosity of molasses is affected both by dry matter and temperature, for example, a rise in temperature of 10 ºC may reduce the viscosity to half or less and a reduction in the dry matter content will also decrease viscosity.
Molasses may have a viscosity of several hundred centistokes whereas very heavy lubricating oil may be in the region of 100 centistokes.
Molasses is not Newtonian fluid and pump ability does not only depend on viscosity but very much on where it is coming from, storage time, fermentation process, brix value and last but not least, the temperature during the period the fluid are onboard the ship.
The Brix number is a measure of the sugar concentration and equals the percentage by weight of sucrose in solution. Brix number usually in the range of 80 – 90. Coatzacoalcos 86.16, Karachi 84, Red Sea 84, Buenaventura 85. Molasses from Karachi is considered good molasses, however, those with Brix number 87/89 are considered very thick and lousy to discharge.
The visual effect of fermentation in molasses is an increase of volume and the creation of a layer of foam in, and especially on top of the molasses. Besides the development of foam, the temperature sharply increases a couple of ºC per 24 hours, and at all times an alcoholic odour can be observed, sometimes in combination with the odour of acetic acid. Fermentation can be stopped by blowing air into the molasses, the available oxygen will destroy the anaerobe bacteria and the entire fermentation stops.
Explosion and Health Hazard data
Molasses is non-flammable and non-toxic substance. Molasses fermentation occurs when molasses is diluted with salt or fresh water and is accelerated by heat. During fermentation CO2 (with possible traces of ethanol and higher alcohol vapour ) is given off, which will produce inhalation hazards in the compartment containing molasses residue. Reacts with concentrated nitric and concentrated sulfuric acid.
PRIOR TO LOADING
A clean dry tank is all that is required.
Zinc coatings have restrictions regarding the pH – check coating guide.
Check heating coils and ensure that steam traps are in perfect condition.
Check cargo pump book for viscosity limits
Purge all Framo cargo pump cofferdams and ensure no leakage in seals. Fill cofferdams with fresh water.
LOADING
Loading to be started carefully via drop line ( avoid free fall loading ).
For Japanese pumps – it is important to maintain the low-pressure air buffer on the cargo pump cofferdam space to avoid molasses entering and crystallising in the pump cofferdam.
Obtain heating instruction and full specification from the shipper, otherwise a letter of protest to be issued.
HEATING DURING THE VOYAGE
Generally during the voyage to be maintained temperature 35 – 38ºC, for discharging 40-41ºC.
At a temperature 40ºC molasses is relatively stable but as the temperature is raised sugar may be lost by thermal decomposition. At temperature over 60ºC, there is always the possibility of thermal decomposition and complete destruction of cargo.
Heating instruction to be strictly followed and heating log completed. It is important to maintain accurate temperature. Note that temperature should be measured at several places and levels within the tank as the different temperature can be experienced. When ballasting if possible keep tanks slack to avoid tank top cooling down too quickly.
It is important to check p/v valves daily for the good operation to avoid tank overpressure.
DISCHARGING
During discharging maintain the highest allowed temperature for the best discharge rate.
Use as big as a discharge hose available, avoid too many pipe bends and pressure losses on the discharge line.
Booster pump to be in use if fitted.
It is better to run the cargo pumps at reduced speed and reduced hydraulic pressure due to foaming and cavitation. Reduce pump further when the tank is about ¾ empty.
Arrange small water flow through cofferdam during discharge. This water flow will wash away any molasses and have a good cooling effect on seal arrangement.
For Japanese pumps – maintain the low-pressure air buffer on the cargo pump cofferdam.
Ensure that coils are turned off in good time to avoid caramelization.
If there is too much foam in the molasses during last part of discharge there are several methods with an agreement with surveyors/receivers:
Adding of non-toxic chemicals
Recirculation through drop line
Injection of live steam
TANK CLEANING
If live steaming has been carried out during discharge than a good hot water wash is all that is required.
If caramelization has occurred on the coils then after tank clean and dry crack coils with steam and wipe with rags.
When molasses stowed in zinc tanks check pH and if less than 7, use alkaline safety liquid to neutralise the acid.