With the six on six off at ports or breaking the monotony of the long voyage syndromes or even just utilising one of the best perks that come for the men of this "cult". For wise men say, you travel not to go anywhere, but to go– You travel for travel's sake. The great affair is to move! And we are on the move your entire tenure your onboard, and you can be on the move too when your off.
After all "world travel" is one of the most beautiful things that can happen to anyone, Travel makes one modest. You see what a tiny place you occupy in the world.
To Paraphrase Henry Rollins- I beg people to travel. If you haven't booked a flight yet, book one. Take a summer off, get a backpack and go to Delhi Or Saigon, go to Bangkok or go to Kenya. Have your mind blown, dig some interesting people, eat some exotic food, drink the local beer, have an adventure. Be careful, Come back and you're going to see your country differently, you're going to see your people differently, no matter who it is or what is it. Music, culture, food, water. Your showers will become shorter. You're going to get a sense of what globalization looks like. You're going to see that global climate change is very real. And that for some people, their day consists of walking 12 miles for four buckets of water. And so there are lessons and adventures that you can't get out of a book that are waiting for you at the other end of that flight.
As far as I am concerned, after spending my entire childhood jumping cities every two years, because of my father's nature of work and then began working in an oil tanker after I turned 18, travelling to different countries (mostly on the ship) has made me realise that every place in the world now feels accessible, easy to reach and more or less closer home. And it's the resulting diversity of experiences and people in My life that ultimately lead to an increased appreciation of all that I encountered during my travels.
While that cheap two-dollar Vietnamese wine I drank in the valleys of Sapa or the stomach-upsetting beef steaks I had in the streets of Kathmandu, or the beautiful red head in Bangkok I spent money on, might not have been the best things I've ever tried or did. But, I fully enjoyed the experience of having something I would never have,  had I not travelled.
And the fact that this is how I feel when in such situations provide all the motivation I need to continue living this lifestyle. I'm not saying that everyone should want to live like that, not at all. I'm just sharing what I feel and hopefully showing why this is so appealing to me, how I think one should travel and how can it be so much better to be a traveller and not a tourist!
World travel is cheap and easy
In fact, with a little practice and effort, you can make it pocket-friendly and fun at the same time. The idea that travel is expensive and cumbersome is nonsense peddled by tour companies, hotel chains, and corporate media. The tourism industry wants you to buy cruise packages and stay at all-inclusive resorts. They want you to choose a world travel experience the same way you would choose a new jacket at the mall. They want your credit card number. They want you to follow that tailor-made package and stick to the Day-1, Day-2, and Day-3 itinerary. It can be scary to end up in a foreign land with nothing more than optimism and goodwill, but personal freedom begins with a huge leap of faith.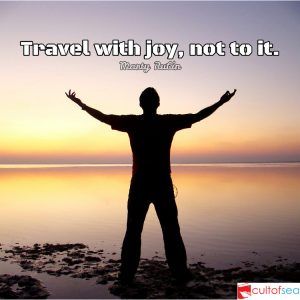 1. Embrace the simple joy of travel. Travel frees you from the grind of daily routine. You will explore new places, meet new people, try new foods, and learn things about the world – and yourself – that you never imagined were possible. The joy of new experience is the most wonderful thing about world travel – and new experiences are free. Walk the streets of a city. Stop and chat with locals. People-watch in a public park. Climb to the top of a hill and watch the sunset over the ocean. T e simple joy of being in a new place is just a matter of… wait for it… going someplace new. No tour package required.


2. Keep your needs to a minimum. Our modern day economy, built on the false premise that people need to buy new goods and services all the time. Again, I say nonsense. People need fresh air, healthy food, clean water, exercise, creative stimulation, companionship, self-esteem, and a safe place to sleep. All of these things are simple to obtain. Most of them are free. For fresh air, go outside. For exercise, take a walk. For creative stimulation, go somewhere new. For companionship, make a friend. For self-esteem, turn off your TV, breathe deep, and open your spirit to the goodness of the world.


3. Time. Time is not money. Time is free. You have all the time in the world. 'Oh no I don't' – is that what you just thought? Are you kidding me? You're a sailor. We can have the longest of vacations, and if you're single… well, don't even get me started on that.
So here's the tip of the day—buy a ticket, get on a plane and don't come back for some time.  You will always have some reason to stay at home. You always be able to find an excuse as to why today just isn't the right day. But the idea that the stars will align, and you'll find the perfect day to step out of your door and into the world is a fantasy. Today might not be the perfect day — but neither is tomorrow. Today, there will still be loans to clear, Tomorrow there still won't be enough money, or exams to give or courses to attend or your brother getting married. Tomorrow will never be perfect.  As they say, tomorrow never comes. And then one day you'll find you've run out of tomorrows. So stop waiting. Today is your day –. Get ready to move it move it!