The ship security alert system is again not a GMDSS communications system but it may be associated with GMDSS equipment installed on a ship. Carriage of SSAS is a requirement under the
regulations of chapter XI-2 of SOLAS. The ship security alert system is fitted to a ship for the purpose of transmitting a security alert to the shore to indicate to a competent authority that the security of the ship is under threat or has been compromised.

SSAS  is a system that contributes to the International Maritime Organization's (IMO)'s efforts to strengthen maritime security and suppress acts of terrorism and piracy against shipping. The system is a joint project between Cospas-Sarsat and the IMO. In the case of attempted piracy or terrorism, the ship's SSAS beacon can be activated, and appropriate law-enforcement or military forces can be dispatched.
Unlike the GMDSS distress alert, which is designed to be received by all possible stations, the SSAS is intended to allow a covert activation to be made which alerts the competent authority ashore and does not raise an alarm on board ship nor alert other ships. It comprises a minimum of two activation points, one of which is on the navigation bridge.
How SSAS works?
When the maritime security staffs comprehend probable danger from pirates or terrorists a Ship Security Alert System (SSAS) alert is triggered. The beacon transmits a specific country code, reacting to which the Rescue Coordination Centres (RCCs) or SAR Points of Contact (SPOCs) of that particular region is notified discreetly. Once receiving the signal the national authorities of the area notified dispatch appropriate military or law-enforcement forces to deal with the terrorist or pirate menace.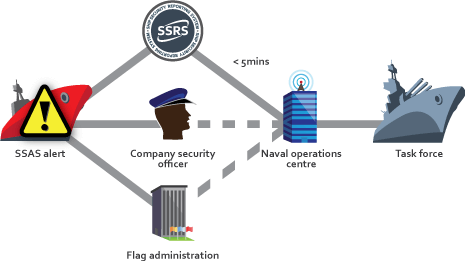 Ship security alerting can be effected by means such as:
(a) use of a dedicated button on a GMDSS communications system that will provide shore personnel with a clear  indication that covert activation was used, or
(b) use of a separate, dedicated alert system to send a covert alert, or
(c) use of a security communications routine, established between the master and the designated shore personnel.
As required by its Administration, the competent authority receiving the alert notifies the:
1. Authority responsible for maritime security within its Administration,
2. The Coastal State in whose jurisdiction the ship is presently operating, or
3. The Contracting Government responsible for the SAR region where the ship is located.