Purpose
Long Range Identification and Tracking or LRIT enables a Contracting Government to obtain ship identity and location information insufficient time to evaluate the security risk posed by a ship off its coast and to respond, if necessary, to reduce any risks.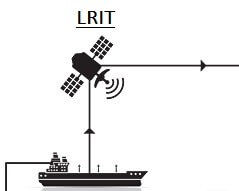 Long-range identification and tracking is also not a GMDSS communications system but it may use GMDSS equipment, particularly Inmarsat C terminals. LRIT is the subject of a new regulation included in chapter V of SOLAS which applies to ships constructed after 31 December 2008 with a phased-in implementation schedule for existing ships. The new regulation does not apply to ships which operate exclusively within sea area A1 and are fitted with AIS.
The LRIT information that ships are required to transmit include
the ship's identity,
position
date and time of the position.
LRIT differs from AIS by having longer range and also, whereas AIS is a broadcast system, data derived through
LRIT information is available to:
Contracting Governments are entitled to receive information about ships navigating within a distance up to 1,000 nautical miles off their coast, and
about ships which have indicated an intention to enter a port irrespective of distance.
Administrations are entitled to receive information about their own flagged ships irrespective of where the ships are located.
The shipborne equipment is required to automatically transmit the LRIT information at 6-hour intervals to an LRIT Data Centre and also be capable of being remotely configured to transmit at variable intervals and be capable of responding to a polling command. LRIT Data Centres are set up nationally or regionally by Governments and communicate through an International LRIT Data Exchange. Governments obtain LRIT data from the Data Centres by request providing that they are so entitled according to an LRIT Data Distribution Plan which is administered by the IMO.
Governments bear all the costs associated with LRIT and there are no charges to ships. LRIT information may also be made available for search and rescue purposes.
The LRIT regulation will apply to the following ship types engaged on international voyages:
All passenger ships including high-speed craft,
Cargo ships, including the high-speed craft of 300 gross tonnage and above, and
Mobile offshore drilling units.
These ships must report their position to their flag administration at least four times a day.