The Nature of Fire:
Fire is a chemical reaction known as combustion which occurs when fuel and oxygen are brought together with sufficient heat to cause ignition. A fire cannot start , or continue, if one side of the fuel-oxygen-heat triangle is absent, or if there is an interruption in the chemical chain reaction that sustains burning.

Oxygen, heat and fuel are frequently referred to as "fire triangle". Add in the fourth element, the chemical reaction and you actually have a fire. The important thing to remember is: remove one of these elements and you will not have a fire or the fire will be extinguished.
Types of Fire (fire classification)
When dealing with a fire, it is important to recognize its type as the correct treatment of one type of fire applied to another type may only increase the danger.


Class A :
Fires which are fueled by materials that when they burn, leave a residue in form of ash. Fires in ordinary combustible materials such as wood, cloth, paper, rubber and many plastics.
Class B:
Fires involving liquids or liquefiable solids.
Class C:
Fires involving gases.
Class D:
Fires that involve metals, such as magnesium, sodium, titanium, and certain organ metallic compounds such as alkyl lithium.
Class F:
Fires involving cooking oils, grease, fats and oils.
Fires that involve energized electrical wiring or equipment ( motors, computers, panel boxes).  Note that if the electricity to the equipment is cut, a  fire becomes one of the other types of fires. Electricity itself does not burn. Any fire which is referred to as an electrical fire would actually be a Class A, B , C or D fire as described above, but with the additional hazard of live electrical circuits. Once the appropriate electrical circuits have been isolate the fire is treated as normal for its class.
Types of Portable Fire Extinguishers
An extinguisher is an appliance containing an extinguishing medium, which can be expelled by the action of internal pressure and be directed into a fire. This pressure may be stored pressure or be obtained by release of gas from a cartridge.
A portable extinguisher is one which is designed to be carried and operated by hand, and which in working order has a total weight of not more than 23kg.
Extinguishing medium is the substance contained in the extinguisher which is discharged to cause extinction of fire.
Extinguishers containing water, foam or dry powder will be similar in appearance, except that they may be color coded so that they may be easily identified. In each replica watches case medium is stored in a welded container. When the valve is opened, CO2 gas exerts a downward pressure on the water, foam or dry powder, forcing it up a siphon tube and out through the delivery hose. The discharge may then be controlled by squeezing and releasing the operating head valve.
Extinguishers where the medium itself is CO2, the gas is stored as a liquid under pressure. Due to pressure involved CO2 extinguishers are not welded containers but solid draw. Upon discharge the liquid expands into CO2 gas.rolex watches replica swiss movement
Halon is stored as a liquid under pressure, but not as such high pressure as CO2. Therefore it is not cold on discharge. Most portable halon extinguishers are manufactured from solid draw tube. Halon 1211 (known as BCF) is discharged as a liquid which can be sprayed at the fire with some direction. ( In 1989, when the Montreal Protocol determined that halon depleted the ozone layer, and the U.S. Environmental Protection Agency subsequently banned its manufacture in 1994, the search was on for halon replacement options)
Various Types of extinguishers and their usage
Dry Chemical Powder extinguishers are usually rated for multiple purpose use. They contain an extinguishing agent and use compressed, non-flammable gas as a propellant. They can be used on FLAMMABLE SOLIDS (such as paper, wood, plastic etc) FLAMMABLE LIQUIDS and FLAMMABLE GASES (but it is NOT usual to extinguish the flame of a gas fire).  Also safe on LIVE ELECTRICAL EQUIPMENT.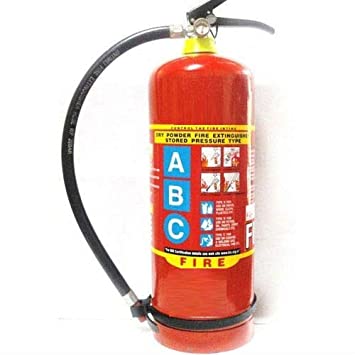 Halon extinguishers contain a gas that interrupts the chemical reaction that takes place when fuels burn. These types of extinguishers are often used to protect valuable electrical equipment since they leave no residue to clean up. Halon extinguishers have a limited range usually 1.2-1.8m. The initial application of Halon should be made at the base of the fire, even after the flames have been extinguished.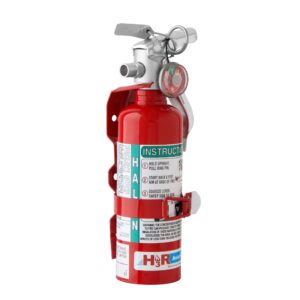 Water extinguisher contains water and compressed gas and should be only used on Class A fires.

Carbon Dioxide (CO2) extinguishers are most effective on Class B and electrical equipment fires. Since the gas disperses quickly, these extinguishers are effective from 1m to 2.5m. The carbon dioxide is stored as a compressed liquid in the extinguisher, as it expands, it cools the surrounding air. The cooling will often cause ice to form around the "horn" where the gas is expelled from the extinguisher. Since the fire could re-ignite, continue to apply the agent even after the fire appears to be extinguished.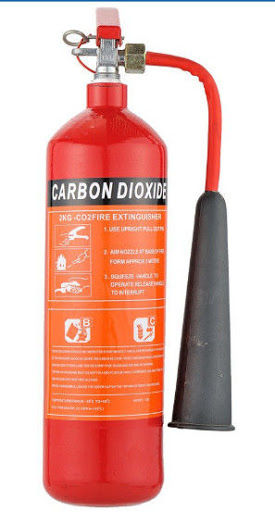 Foam spray extinguisher is ideal for the multi-risk situation were both classes A and class B risks are likely to be found. Spray foam extinguishers provide a fast, powerful means of tackling flammable liquids. The foam forms a seal over the surface to prevent re-ignition.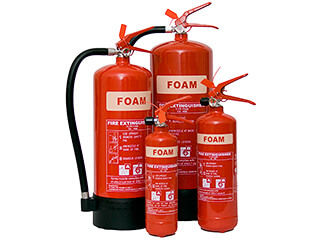 Wet chemical extinguishers are designed for use on Class F fires involving cooking oils and fats, such as lard, olive oil, sunflower oil, maize oil and butter. It is extremely effective as the wet chemical rapidly knocks the flames out, cools the burning oil and chemically reacts to form a soap-like solution, sealing the surface and preventing re-ignition. Independent fire tests have established that it is capable of extinguishing a fire in a deep fat fryer. The extinguisher is easy to use producing a gentle but highly effective spray. The gentle application helps prevent hot oil splashing onto the user. An added benefit is that they are also suitable for use on free burning materials (Class A) such as wood paper and fabrics.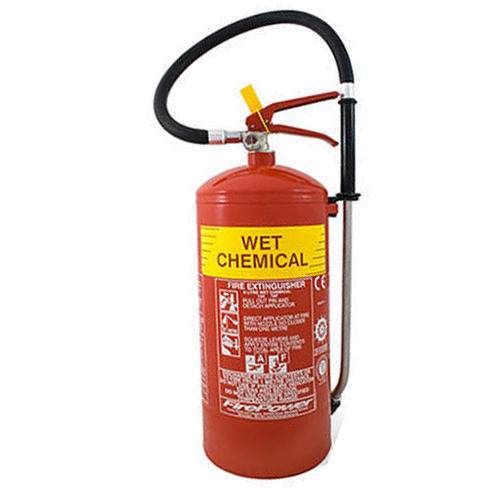 | | |
| --- | --- |
| Extinguishing medium | Recommended for use on fires involving |
| Water | Class A |
| Foam | Class A-B |
| Dry powder | Class A-B-C-D |
| CO2 | Class B and electrical fire |
| Wet chemical | Class A-F |
Construction of an extinguisher should be designed and manufactured for simple and rapid operation and ease for handling.
Marking of extinguishers
Each extinguisher should be clearly marked with the following minimum information:
name if the manufacturer;
types of fire and rating for which the extinguisher is suitable;
type and quantity of extinguishing medium;
approval details;
instructions for use and recharge;
year of manufacture;
the temperature range over which the extinguisher will operate satisfactorily, and
test pressure
Periodical inspections and maintenance
Extinguishers should be subject to periodical inspections in accordance with the manufacturers instructions and serviced at intervals not exceeding one year.
Annual Inspection

Safety clip and indicating devices
Check to see if the extinguisher may have been operated.
Pressure-indicating device
Where fitted, check to see that the pressure is within limits. Check that dust covers on pressure-indicating devices and relief valves are in place.
External examination
Inspect for corrosion, dents or damage which may affect the safe operation of the extinguisher.
Weight
Weigh the extinguisher and check the mass compared to the fully charged extinguisher.
Hose and nozzle
Check that hoses and nozzles are clear and undamaged
Operating instructions
Check that they are in place and legible

Inspection at recharge

Water and foam charges
Remove the charge to a clean container if to be re-used and check if it is still suitable for further use. Check any charge container.
Powder charges
Examine the powder for re-use. Ensure that it is free-flowing and that there is no evidence of caking lump or foreign bodies.
Gas cartridge
Examine for damage and corrosion

Inspection at five and ten-year intervals

Inspection after discharge test

Air passages and operating mechanism
Prove clear passage by blowing through vent holes and vent devices in the cap. Check hose, nozzle strainer, discharge tube and breather valve, as applicable. Check the operating and discharge control. Clean and lubricate as required.
Operating mechanism
Check that the safety pin is removable and that the lever is undamaged.
Gas cartridge
Examine for damage and corrosion. Weigh the cartridge to ascertain that it is within prescribed limits.
O-rings washers and hose diaphragms
Check O-rings and replace hose diaphragms if fitted.
Water and foam bodies
Inspect the interior. Check for corrosion and lining deterioration. Check separate containers for leakage or damage.
Powder body
Examine the body and check internally for corrosion and lining deterioration.

Inspection after recharge

Water and foam
Replace the charge in accordance with the manufacturer`s instructions.
Reassemble
Reassemble the extinguisher in accordance with the manufacturer`s instructions.
Maintenance label
Fill in the entry on maintenance label, including fill weight.
Mounting of extinguishers
Check the mounting bracket or stand.
Report
Complete a report on the state of maintenance of the extinguisher.
General table (Type of extinguishers)
Types of extinguishers
Water
Foam
Powder
Carbon dioxide
Extinguishing medium used:
Water, with possible salts in solution
Water solution containing foam-generating substances
Dry chemical powders
Pressurized carbon dioxide
Expellant charge of the extinguisher (stored pressure or cartridge as indicated) :
Carbon dioxide or other pressurized inert gases or compressed air (stored pressure or separate cartridge)
Carbon dioxide or other pressurized inert gases or compressed air (stored pressure or separate cartridge)
Carbon dioxide or other inert gases or dry air (stored pressure or separate cartridge)
The discharged extinguisher is achieved by:
Opening of the valve. Action of pressurized gas (opening of the cartridge)
Opening of the valve. Action of pressurized gas (opening of the cartridge)
Opening of the valve. Action of pressurized gas ( opening of the cartridge)
Opening of the valve of the container constituting the extinguisher
The discharged extinguishing medium consists of:
Water, with possible salts in solution
Foam containing the gas used
Dry chemical powders and carbon dioxide or other gas
Carbon dioxide
The discharged extinguishing medium causes the extinction of the fire by:
Cooling of the burning materials. Water evaporation and consequent formation of a local atmosphere (water/steam) which isolates the burning products from the surrounding air.
Formation of a foam layer which isolates the burning products from the surrounding air and cooling in the case of class A fires.
Inhibition of the combustion process by interrupting the chemical reaction. Some separation of burning materials from the surrounding air.
Formation of a local inert atmosphere (carbon dioxide) which isolates the burning material from the surrounding air. Smothering and cooling action carbon dioxide
The electrical resistance of the discharger extinguishing medium is:
Very low
Varied
Very high. Under intense heat some powders may be electrically conductive
Very high
Operating peculiarities and limitations:
The jet or spray of the extinguisher should be directed towards the base of the fire.
Powder mixture subject to wind-age ; they may therefore have reduced effectiveness in the open or in ventilated spaces
Gas subject to wind-age; they therefore have limited effectiveness in open or ventilated spaces

 

The extinction of the fire achieved only when all the burning surface is covered by foam
Disadvantages and dangers:
Not to be used where there is electrical hazard
Generated powder mixtures may be suffocating and can impair vision. Powder can damage electrical contact
Carbon dioxide may be suffocating
Maintenance:
Extinguishers with copper or copper alloy body should not be polished with products of corrosive or abrasive nature which may cause wall thickness reduction. Such extinguishers should be avoided but where used they should preferably be painted externally
Some types of powder may be altered by humidity; therefore avoid the refilling of the extinguisher in humid locations

The charge can freeze at temperatures of about 0°C (unless the charge is made non freezable chemically)

The charge can freeze at about 5°C. The charge can be altered by elevated temperatures (about 40°C or more). Therefore, the extinguisher should not be installed in position where  it may be exposed to high or low temperatures.
Avoid installing the extinguisher in excessively warm locations, where the internal pressure of the carbon dioxide in the cartridge might rise to a vetry high value.
When carbon dioxide container is provided, avoid the installation of the extinguisher in excessively warm locations, where the internal pressure of the carbon dioxide in the container might rise to very high values
---
Diagrams
Dry chemical Powder
Water extinguisher
CO2 Extinguisher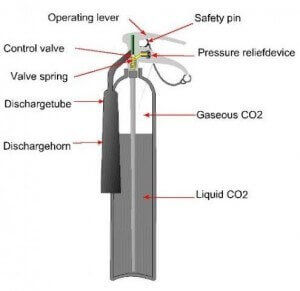 Foam Type Fire Extinguisher