Why is magnetic compass useless in higher latitude or Polar Regions?
The magnetic compass depends on the horizontal component of the magnetic field of the earth. As the north magnetic pole is approached in the Arctic, the horizontal component becomes progressively weaker until at same point. The magnetic compass becomes useless as a direction measuring device.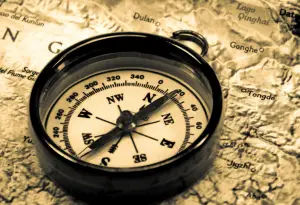 The magnetic compass will not settle unless the ship remains on the same heading for a prolonged period, so it can be considered almost useless anywhere north of Lancaster Sound.
So is it possible to use a magnetic compass in higher latitude?
The answer is Yes, If the compass must be used the error should be checked frequently by celestial observation and, as the rate of change of variation increases as the pole is approached, reference must be made to the variation curve or rose on the chart.
It's risky, then what equipment is required for vessels navigating north of 60° North latitude?
Two radars;
Two Gyro compasses;
Two echo sounders, each with an independent transducer Two searchlights with two spare lamps;
A weather facsimile receiver; and A spare antenna.
What projection is used in the Arctic?

In the Arctic, the common projections are Lambert Conformal Conic, Polyconic, and Polar Stereographic. Polar Stereographic is popular as it provides minimum distortion over relatively large areas.